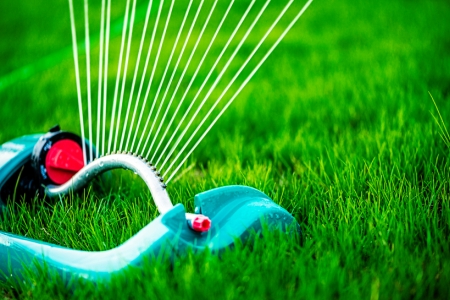 For many homeowners, watering the lawn is a guessing game—sometimes with a losing outcome.
Knowing when and how to water your lawn is a science, says Bryan Ostlund, executive director of Grass Seed USA, a national coalition of grass seed farmers and academic turf specialists.
"When it gets hot, the most common mistake people make is to excessively water their lawn," Ostlund says. "However, your lawn only needs to be watered once or twice a week during the summer months. When done correctly, cutting back on irrigation can actually strengthen your lawn."
Less watering stimulates deep root growth, which can be a boon in drought-prone areas, Ostlund adds. (Not to mention, overwatering can also counter community efforts to curb water consumption!)
Water with no more than 2 inches each week, Ostlund recommends. This will compensate for the lack of rainfall in summer without risking over-saturation.
The best time to break out the hose is early or late in the day, says Ostlund. This allows for deeper absorption, because the sun will not evaporate the water as rapidly as it would mid-day.
Most importantly, be sure to regularly schedule watering times. Lawns thrive wioth consistent waterings, according to Ostlund.
Source: Grass Seed USA
Published with permission from RISMedia.