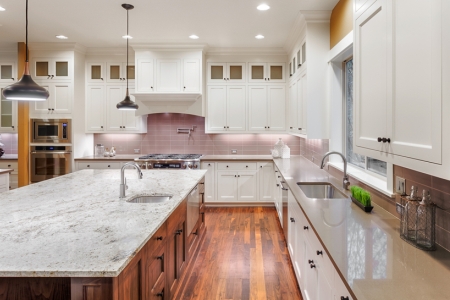 Renovating your kitchen is one of the most valuable improvements you can make to your home—if done within a budget that fits the circumstances.
Generally, the price of a cost-effective kitchen remodel will be 10 to 15 percent of the overall value of the home, say the experts at Cornerstone Design and Remodel, a San Diego, Calif.-based firm. Most kitchen remodels, according to Cornerstone, fall into one of three categories:
•
Minor
(Costing less than $15,000)
•
Intermediate
(Costing around $40,000)
•
Luxury
(Unlimited budget)
Minor remodels involve installing new appliances or countertops or giving the cabinets a cosmetic update. The expected return on investment, Cornerstone's experts say, can be up to 98 percent.
Intermediate remodels fetch slightly less at resale than minor ones—up to 91 percent of the cost of the project, the experts at Cornerstone say. Intermediate projects might include installing brand new cabinetry and flooring.
Luxury remodeling projects tend to exceed their initial budget, in part due to the cost of high-end finishes, products and technology. While the final result will be appreciated by the current homeowner, a buyer may not be willing to pay for it come resale, so exercise caution, the Cornerstone experts say.
Some kitchen remodels, luxury or otherwise, also involve changing the structure or layout of the room. In this case, it is best to scale the expansion to match the rest of the house, according to Cornerstone. The most common layouts for kitchens are L-shape, U-shape and galley. L-shaped kitchens generally include an island in the design; U-shaped and galley kitchens are efficient workspaces, but galley kitchens can become congested if the flow of traffic through it is heavy.
However you decide to renovate your kitchen, keep in mind the next owner will want to enjoy as much as you will, the experts at Cornerstone add. Efficiency in the design will achieve just that.
Source: Cornerstone Design and Remodel
Published with permission from RISMedia.